Why You Need Professionals for Pest Control
by Valerie Muscat on Apr 4, 2019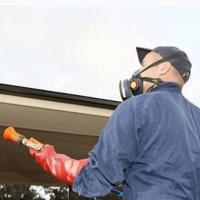 Living with pests can be a nightmare because seeing roaches and ants scurrying up & down your home is not a pleasant sight. And this isn't just an aesthetic issue but a health risk as well. These roaches harbor germs and bacteria that can prove to be detrimental to your health since they sometimes like hiding where you keep your food.
Sure, you can always try and kill the pests in plain sight but this won't eliminate your problem entirely. This is why you must leave the job to the professionals. You must consider engaging a professional pest control services company because of the reasons we'll list below.
Diseases and Bacteria Caused by Pests
We'll start by pointing out the most common diseases associated with harboring roaches:
Cockroaches are known to carry bacteria named E Coli and salmonella on their bodies. Both can intensify health problems related to asthma and allergies.
Tick bites can cause what is known as Lyme disease. It's a disease that is very dangerous and can display symptoms like extreme fatigue & severe rashes.
Ants can also contaminate your food which can cause an upset stomach.
Bee stings can cause injuries or trigger allergic reactions.
5 Reasons You Must Call a Professional Fumigator
Safeguard Your Health
When it comes to pest control, you'll find a wide range of pest control products at your disposal. While these sprays are designed to kill pests, unfortunately, the same fumes may pose a danger to you and your family.
After all, being exposed to chemicals of any kind generally puts your health at risk. In most cases, these products contain chemicals that you have no detailed knowledge of and can be potentially harmful not only to you but to your pets & plants.
Chances are when using the products, you're less likely to:
Take the necessary safety precautions
Wear the recommended  safety gear
Know the exact method of application so you don't put yourself at risk
This is where the professionals come in. As qualified fumigators, they're trained and equipped to deal with pests in a safe & effective manner. Not only will they have the right equipment, but they'll also use the appropriate gear and take the necessary precautions required when fumigating.
Effective Treatment Program
As mentioned before, eliminating pests you see in plain sight is only part of the solution. The key lies in identifying the source of the infestation so that you get rid of all of them. And you'll admit that you can only know so much about these hiding places.
A professional pest controller has both training and experience on his or her side & as such will know:
Exactly where to look and identify all the hiding places
How to determine the cause of the problem
Eliminate the source to prevent future infestations
Which methods to use depending on the severity of the infestation
Time-Saving
Trying to get rid of pests on your own is by no means a quick and easy process.  By taking matters into your hands, you have to be prepared to:
Dedicate a lot of time to performing the task. Remember you won't only be dealing with one section or area. You have to treat the whole place.
Along with spending a lot of time, you're likely to spend substantial amounts of money buying insecticides.
The labor involved is no child's play and the hours you put into the task are more likely to leave you tired & frustrated
The unfortunate part is even after investing all your time, effort, and money, chances are the job might not be done thoroughly enough. All your efforts may be in vain. So why not leave the hard work to the professionals? Since they're more experienced, they'll know how to perform the task quickly and efficiently too.
Cost
Sure, the initial cost of hiring a professional fumigation company may seem a little steep. But the truth of the matter is, it'll end up being a much cheaper alternative compared to handling the job yourself.
Many homeowners can attest to how many products they had to buy in their quest to get rid of pests. And the insecticide market doesn't make it easier, because you'll find different brands—and all of them claim to be the most effective.
You're likely to purchase one treatment after another; from powders and baits to sprays you attempt to get rid of the problem. No doubt, this will end up being a costly process. So engaging the services of a professional pest control company from the onset will be in your best interests to avoid wasting money. Get it right the first time.
Warranty
Most professional pest control companies provide warranties for their services. This means after treatment, if the pests happen to come back within a specified time, they'll come and treat your premises again—free of charge.
You'll admit that's an attribute worth considering and which buying insecticides at a store simply can't match.
Final Words
Based on the reasons above, you can see why engaging the services of a professional fumigator is a much better option than trying to handle the matter yourself. Not only is it a much quicker and more effective way, but it also comes with guarantees. You can rest easy at night knowing that your problem has been completely solved and safely too. The critters are gone!