If You Own an Older Home, You May Want to Consult a Professional
by Guest on Mar 22, 2020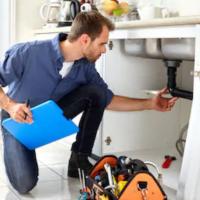 If You Own an Older Home, You May Want to Consult a Professional to Check Your Plumbing
"Good bones" - we've heard many older houses described this way. It's intended to mean that an old house is solid, suitable for living, and stands the test of time. The trouble is, when people brag about their old house's "good bones", they probably aren't referring to the plumbing. And bad, out-of-date plumbing can destroy a house's good bones in short order.
Why Plumbing Doesn't Last Forever
The materials used to create the actual structure likely are a great deal tougher and better than much of what's used today. However, the pipe we use for plumbing has changed a lot. Even if you have a century-old house that had plumbing redone a few decades ago, it needs to be rechecked. Why?
For example, during the 1970s on through to the '90s, polybutylene pipes were enjoying a moment. The thing is, they aren't even manufactured any If You Own an Older Home, You May Want to Consult a Professional to Check Your Plumbing '
They're terrible and can degrade in a matter of 20 years. Polybutylene has led to untold millions in water damage.
That's just one example, though. Every kind of pipe and plumbing fixture has an expiration date. Copper piping, for instance, can last up to 80 years but can corrode and fail in as little as 40. Galvanized steel, PVC, and PEX all last about 40 years, 50 if you're lucky.
And then you have fixtures, like faucets and valves, as well as toilets and tubs. These typically last 20-40 years, although that fabulous claw-foot bathtub may last double that. It's unlikely that every single plumbing component was inspected, even if pipe corrosion was written down.
Aside from that, there are considerations to make involving asbestos. Asbestos was used pre-WWII in plumbing systems and some pipes.
Finally, old trees may add to the aesthetic value of the property, but it's also possible that the roots have grown to the point where it has damaged the plumbing system.
DIY Danger
The plumbing specifically in older homes should be assessed by a professional. For one, the higher-quality building materials can make accessing old plumbing a real pain. If you were addressing it yourself, you may think that breaking out a sledgehammer and doing some demo was necessary.
But among the many tricks up their sleeve, a good plumber often knows the most cost-effective and non-invasive way to get in and obtain the best view of your old plumbing. That's right - calling a plumber to look at your old house can save you money.
It's also vital to consider the history of the home. Did the previous owners see fit to work on the plumbing themselves? Their error can be your massive loss. Look for signs of leaks, like stains or bubbles, and keep an eye out for areas that seem suspiciously patched over.
You never want to lose out on the great bones of an old home by overlooking the plumbing. If water damage occurs, you'll have to replace that beautiful old flooring and wallpaper that made your home so appealing, to begin with. Preserve and protect by preventing floods and persistent drips - consult a plumber.