Important Things You Absolutely Have to Know About Asbestos Removal
by Boris Dzhingarov on Jan 30, 2014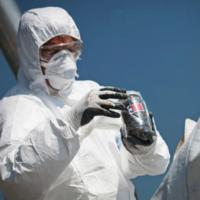 Asbestos is the name of a mineral that is found in some building supplies like roofing, insulation, acoustic ceilings, floor tiles, ceiling tiles and various other materials. Till the seventies, various asbestos products were utilized in commercial and residential construction. That was mainly due to the various different benefits that were offered. The problem is that when asbestos deteriorates, microscopic fibers are released and we can end up breathing them in.
Asbestos Exposure
Unsuspecting people can end up breathing in asbestos fibers as they are airborne. In many cases the exposure to the fibers can lead towards various lung diseases like lung cancer, mesothelioma and asbestosis. Mesothelioma is particularly damaging as it cannot be treated.
Whenever asbestos exposure threat appears, removal is an immediate necessity. Abatement is needed because you have to prevent the fibers from ending up in the air that we breathe. Unfortunately, too many people out there just do not know about this and they remove asbestos compounds alone, without help from professionals. This is particularly dangerous and it is the reason why the substance is heavily regulated.
Asbestos Removal
Removal needs to be done by a trained expert. However, in some cases the homeowner might decide to do it the same so that money can be saved. You should never take this job lightly since there are very strict safety rules that need to be respected. Professionals will always understand all the risks and will know what has to be done from inspection to removal. Special protective equipment and clothing is used in order to guarantee safe removal. That is a necessity for the homeowners that want to do the job alone.
In the event that you want to start asbestos removal and you want to perform all the work alone, it is very important that you first learn all that needs to be understood about the process. Never hurry and make sure that the entire area is properly protected so fibers do not end up released in the air you or people around you breathe in.
How Do You Detect Asbestos Presence?
When you suspect the presence of a contaminant, you cannot simply perform a simple test and see if you are right. Samples need to be collected and then tested in a suitable laboratory. The only way to make sure that the product is dangerous is to examine products under a microscope. As soon as asbestos presence is confirmed, two choices are available. When the product is in a proper condition, you can leave it undisturbed. If the condition is not great, there is a huge chance that fibers would be released in the near future. This is when removal becomes an absolute necessity.
Basics Associated With Asbestos Removal
The professional will always seal the entire area with the use of plastic so that all asbestos is contained. Protective clothing and equipment is used for personal protection. Asbestos needs to be wet since dry asbestos fibers will easily become airborne. The next removal steps are not difficult but you have to be sure that you respect the law when referring to disposal of the removed asbestos.