Avoid these 5 Mistakes when Operating a Circular Saw
by Guest on Feb 8, 2011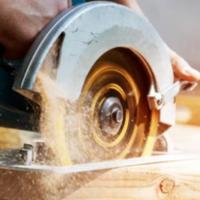 Circular saws are quite versatile and efficient tools when used properly, but can pose a serious safety hazard if used incorrectly.
Here are five mistakes to avoid when operating a circular saw:
Failing to wear the appropriate safety attire. While we wish it went without saying that safety goggles should always be worn when working with a circular saw, many people neglect to follow this basic safety rule. In addition to protecting the eyes, avoiding loose clothing and jewelry that could become caught in a saw is also important. Certain jobs also call for the use of hearing protection and/or a respirator mask for optimal protection.
Using a dull blade. If the blade on a circular saw is too dull, it will place unnecessary strain on both the saw and the operator. A dull blade in a circular saw can be dangerous because of the extra force the operator must apply in order to make a cut, and can also damage the saw by overworking the motor. A blade that has hit a nail is particularly prone to becoming dull, but any blade will become dull with use.
Leaving the saw plugged in. Circular saws should be unplugged at all times when not in use to prevent accidents. Battery operated saws can have the battery removed. Ensuring that a circular saw is unplugged is especially important when changing a blade, lubricating or otherwise maintaining the saw. Essentially, the only time the saw should be plugged into an outlet is while it is in use.
Overextending the body. Maintaining stable positioning is an important responsibility when using a circular saw. Overreaching could cause a saw operator to lose his or her balance and create a dangerous situation.
Using the wrong type of blade for the cutting surface. Different types of blades are available for circular saws to cut different surfaces. One important distinction is the difference between a ripping blade, designed to cut with wood grain, and a crosscutting blade, designed to cut against the grain. There are also blades designed for cutting different types of materials, such as glass, steel, tile or concrete.
Following all manufacturer usage guidelines and safety recommendations when using circular saws and other hand and power tools is advisable.