7 Reasons Why You Need to Change your Mattress
by Guest Post on Dec 20, 2017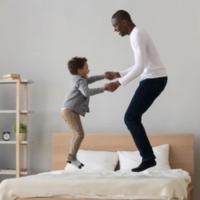 The role of a mattress in allowing you a quiet, peaceful and comfortable sleep cannot be undermined. In fact, mattresses are a piece of your home on which you spend the maximum amount of your time. According to research, an individual spends one-third of his life sleeping and hence this is the amount of time that almost everyone spends on mattresses.
Today we mention 7 reasons why you should consider replacing your old mattress and getting yourself a new one.
It has health benefits
Yes, a good mattress possesses a great health advantage, it allows you to sleep comfortably. Good sleep is necessary for your body and mind to remain in the best shape possible. Therefore in case you have a mattress that is uncomfortable to sleep in, it will cause hindrance to your sleeping patterns and thereby will affect your body. Get yourself a new mattress if you are facing troubles sleeping as this issue in long run will be harmful to your body.
There is too much noise
Do your mattresses make noise when you lie down? Does the spring have a squealing sound associated with it? Then it probably is a sign for you to retire this product and get yourself a new mattress. Such squealing sounds develop after a while when you have used and lied down on mattresses repeatedly. In fact, if your mattress is an old innerspring variant you can get new hybrid ones that are in trend.
You Are Facing Back Pain in Morning
If you are constantly waking up to back or neck pain, then it is high time that you should consider changing your mattress. Not all mattresses would have signs of wear and tear on them for you to consider changing them. Instead, you will be needed to pick up such signals of constant pain in your body to realize that your old mattress isn't doing the job well.
Your Mattress Has Started Sagging
One of the clear signs of your mattress wearing out is if it starts showing signs of sagging. This is one thing which you can see with then the naked eye and hence consider replacing the mattress which you already have. A sagged mattress becomes uneven and hence, in the long run, causes issues of back pain and uncomfortable sleep which we know is something you wouldn't want.
It has turned old
This is not a sign, however, an understanding. A mattress that has been used for more than a decade will gradually lose its quality and hence will require a replacement. It is a good practice to replace your mattress every once in a decade at least. 
Witnessing Allergic Reactions
Lying on your bed if you suddenly start experiencing allergies then it is time when you should consider replacing your mattress. Frequent coughing, sneezing, or rashes developed after lying on the mattress is a sign that allergens are present on it and it is time to replace this mattress with a new one.
Soft or Hard
If your mattress begins to react to the room temperature, for example in the excessive cold it turns too hard and in a warm environment then it is a sign that it has turned old. Although most people love hard beds however you wouldn't want to sleep on a stone. Similarly, a soft bed is good; however, a bed too soft will result in an uncomfortable posture while you sleep.
Finding these signs in your mattress you should consider buying a new one.