Outdoor Blinds: 9 Reasons Why You Must Pick Them
by Valerie Muscat on Jan 23, 2020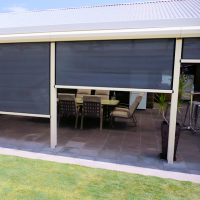 Have you recently moved into your new home and are looking for ways to spruce up the place? While many homeowners tend to focus on beautifying their home interior, remember that your outdoor space matters too!
Why not use outdoor blinds to cover your patio or veranda? You'll be happy to know that when it comes to purchasing outdoor blinds residents are spoilt for choice. You have many reputable companies to purchase your blinds from.
So why must you buy outdoor blinds?
Beautify Your Outdoor Space
Outdoor blinds are available in different designs and colors. You have the liberty to pick & choose your desired style that matches your decor and home's architecture.
Also, the right outdoor blinds will instantly increase your home's value. This is something you'll appreciate if you decide to sell it in the future.
Do you want your home exterior to look as beautiful as your indoor space? Outdoor blinds create the illusion of ''bringing the outdoors indoors" without necessarily leaving the comfort of your home. Make sure you pick transparent blinds for this purpose.
Maximize Your Space
If you have limited space in your home, consider adding outdoor blinds to utilize your space optimally. The idea is to cover an outdoor area such as a patio or veranda with your preferred style of outdoor blinds.
By doing so, you instantly create an extra room that you can use for rest, relaxation, or even meetings. You can even transform a patio into an outdoor covered entertainment area for those times you host parties.
Versatility
Many homeowners appreciate outdoor blinds for their versatility. You can decide to place them almost anywhere you want depending on the design and style that you pick.
Do you want to use them in the garden, swimming pool, or alfresco area?
Protection
As you've probably figured out, installing outdoor blinds isn't merely for aesthetics but functionality too. Outdoor blinds are a practical way of offering you and your family that much needed protection against harsh weather elements. This way you can use your outdoor area all year round without worrying about extreme sunlight, rain, or wind.
Not only is protection extended to you, your family or guests, but your outdoor furniture too. Exposure to extreme weather conditions can significantly and prematurely damage your furnishings. Do you want them to last longer? Purchase outdoor blinds.
Lower Your Energy Bill
As if that's not enough, installing outdoor blinds will help you cut down on your utility bill. How? Outdoor blinds are the first point of contact with external weather conditions. This means incoming heat is stopped from entering your home. Result? You don't have to turn up your air conditioner to keep the space cool.
Studies have shown that you can reduce your energy consumption by approximately 50% by simply installing outdoor blinds, making for exceptional energy efficiency. Impressive, right?
Stop the Prying Eyes
Sometimes you simply want to enjoy private outdoor moments with your loved ones. It could be in the form of an intimate dinner or small barbeque.
You can stop the prying glances from your nosy neighbors by erecting outdoor blinds on your porch. Pick a bold color that makes it impossible to peak through. This way you can enjoy quality family bonding time and feel comfortable in your own home.
Simple to Use
You'll appreciate how extremely simple to operate outdoor blinds are. You have the option to pick between blinds that are operated manually or automatically—with the latter being easier to use.
Whether you pick a Zip track blind or an automatic awning, minimum effort is required on your part to operate it. Any form of forceful tugging or pulling can damage your blinds, so no need for hard handling.
Easy to Maintain
Outdoor blinds are generally designed for easy maintenance and minimal cleaning. Most are made up of materials that make cleaning up a breeze. If they do get a little dusty, it's nothing soapy water and a sponge can't fix. But make sure you don't use abrasive material for cleaning as this might damage your blinds.
Blinds Last Long
You don't want a product that you have to replace now and again. Outdoor blinds are made of strong and durable materials such as canvas & PVC that guarantee durability.
Plus, they're made of weather-resistant materials that can withstand temperature extremes to avoid premature damage.
Final Words
Outdoor blinds won't only instantly beautify your space, but they're generally inexpensive too.  Whether you decide to purchase roller blinds or automatic awnings, Sydney residents have many options to pick from.
The cost of redesigning your home exterior using outdoor blinds is far less compared to exercises such as landscaping.
This certainly sounds like something worth considering, don't you agree? Leave a comment if you have any questions and we'll gladly assist.