8 Simple Steps to a Do it Yourself Outdoor Kitchen
by Guest on May 12, 2012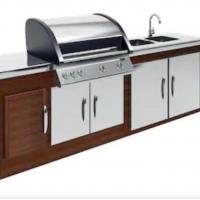 An outdoor kitchen can be a great do-it-yourself project. It's can be a bit challenging but once it sits there in your backyard, your heart will swell with pride every time you barbecue on it! What's more, you can save a lot on contractor fees and at the same time put your creativity to the test.
A typical project will take about 50 hours of your time. Include additional time to go to the market and get supplies, plans, and kits. You could put the requisite number of hours in one go or put in chunks during weekends for whenever you have free time.
For hassle-free construction follows these 8 simple steps to get the maximum from your outdoor kitchen.
Initial Planning
The more planning and research you put into the design stage, the better the end result will be. Make sure to write specifics down on paper.  This will assist with budgeting and help to avoid confusion later.
What type of BBQing or outdoor cooking will you be doing?
Where will you be eating your meals?  Indoors or outdoors?
How many people are you planning on entertaining?
What seasons will you be outdoors most?
What would be the shading or lighting requirements?
Does your city allow for a permanently installed option or do you need something that can move?
The Best Location
After outlining your requirements, the next important step is aligning the best location. If you have a large backyard make sure to have the kitchen closer to the house as inevitably you will have to go to and fro for supplies. Another important tip is to know which way the wind blows. The smoke from the grill should not go toward the eating table. Additionally, if the grill is placed in a shaded area, make sure the smoke can escape easily. Trapped smoke blackens walls and surrounding structures over a long period of time.
Budgeting
What's your budget limit? A good self-made outdoor kitchen can easily be built for under $7000. This includes a high-quality grill, a kitchen island, countertops, and flooring. If you plan to make a patio along with roofing your budget could be considerably more as contractors will take their fees.
Equipment Needs
Before designing or getting a plan for an outdoor kitchen it is a good idea to make a list of equipment you might need. Rather than buying a grill after you make a grill island go the other way round. Select the grill you want and make the island around it. Also consider all the accessories you may need including sinks, cabinets, outdoor refrigerators, access doors, and others.
Get a workable plan
Before rolling up your sleeves get a plan. There are many books and step-by-step kits available in the market. To make things even simpler, there are DVDs and YouTubes describing the entire process of making the kitchen available.
Getting a Local Permit
Your local building officials may require a building permit for an outdoor kitchen. Bring a copy of your property survey, and a map that shows where your property lines are. The building department will ask that everything be thoroughly documented, from the wiring and plumbing to the construction specifics of structures such as patios. You shouldn't feel disappointed if the permit is declined, it happens to the pros also. Simply do the modifications as suggested by the department.
Ready to Get Started
You might have some hard work in store. Take it as fun and slowly. Rushing through the project will only tire you. Get your family involved and work as a team. Avoid building the kitchen during rains. It makes a lot of mess! To get some bargain deals on equipment try online comparison shopping engines to get the best price. If you need help there are many forums online whose members will be more than willing to help you
Beautify and Refine
Your DIY outdoor kitchen would look a little unsophisticated in the beginning. Now is the time to work on aesthetics. Lay flooring that complements the overall surrounding. Choose umbrellas, get a fire pit, install lights on the grill, get a basket or two to keep on the countertops, and decorate with plants. You would be amazed at what you built!
Here's a final bit of design advice: Use materials that require little maintenance. You want surfaces that are easy to clean, require little or no paint, won't rust, and are immune to weather damage. Suggested materials are masonry, stainless steel, pressure-treated lumber, and outdoor-rated tile.