How to Pick the Right Refrigerator for Your Kitchen
by Crikett on Nov 16, 2017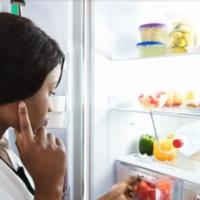 Whether you love cooking or just enjoy being in the kitchen to grab a quick bite out of the fridge; there's no denying the importance your refrigerator plays in keeping your food fresh. As one of the most important appliances in your kitchen, picking out the best refrigerator for your needs can sometimes be tough.
However, by following a few basic guidelines, understanding your needs, and talking to experts, selecting the right refrigerator can be pretty straightforward.
How Much Room Do You Have?
Before you start drooling over some mammoth, double-door beauty like one of the models of the GE Profile series, get out your measuring tape and see exactly how much space you have to work with.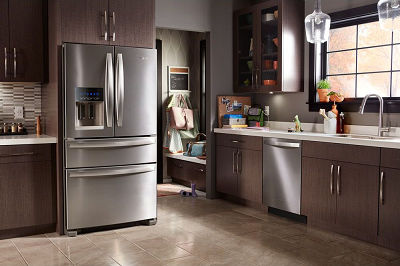 You'll need to measure the height, width, and depth of the available space for your prospective refrigerator. Do it twice -- just to be safe. If you do have the room for something like the 36-inch Whirpool, more power to you. However, if you don't, there are still many top-of-the-line models out there that will fit your space, such as the elegant 21-inch Bosch (which even includes a wine rack!).
If you're so lucky as to be completely remodeling or building a home, then think about your lifestyle and what you need out of your fridge. If you eat out often, think about selecting a smaller option; if you have a big family (or want one) and your diet includes lots of fresh veggies and fruits, then take a look at the beefier models. Where's the Freezer? Thankfully, unlike so many other things in the world, there are a limited number of options for your freezer's position: top, bottom, or side-by-side.
Originally, refrigerators didn't come with freezers, and when they eventually did, there were only two options: top and side-by-side, known as French door style. However, the popularity of the bottom-mount freezer design is steadily rising.
One of several reasons the bottom-mount freezer design is attractive to many people is that the frozen foods are less used, which means that there is less bending over and kneeling to access the bottom shelf of the refrigerator for items you do more frequently use. Another advantage of the design is that the freezer is the entire width of the refrigerator, which makes it easier to store larger items. The last selling point for bottom-mount freezers is that they are generally more efficient as hot air rises, which is why it makes sense to have the coldest items on the bottom. 
One advantage that both top and side-by-side designs have is that they are often cheaper, which can make all the difference. Nonetheless, this varies dramatically between brands and models.
Now, if you're a family that stocks up on frozen foods, you'll need to consider making space for a stand-alone freezer. But that's a conversation for another day. A Note About Refrigerator Energy Efficiency Though refrigerators aren't the most energy-consuming of the major appliances, the fact that they run all day, every day, means that they heavily contribute to your electrical bill every month.
In general, ENERGY STAR refrigerators are about nine percent more energy efficient than other models. "By properly recycling your old refrigerator and replacing it with a new ENERGY STAR certified refrigerator, you can save more than $270 over the next 5 years," explains ENERGY STAR.
You can even see exactly how much any given refrigerator can save you with the Energy Star Savings Calculator. You Don't Have to Know Everything about Kitchen Appliances Selecting the right kitchen appliances can be stressful, but it doesn't have to be. You'll want to shop at appliance stores with knowledgeable sales associates that can give you the rundown on a wide selection of refrigerator models, and share your dream of finding the perfect refrigerator.
You don't need to know exactly what a "ClimateKeeper™ Temperature Management System" is before you walk into the store when you're prepared to buy a major appliance. There are specialists at appliance stores to help you with your purchase.