How to Come Up with Good Bathroom Design Ideas
by Guest Post on Dec 21, 2010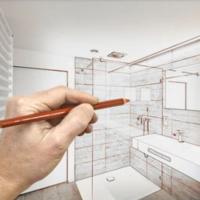 Good bathroom design depends on being able to maximize the existing space you already have. It also starts with the right selection of tiles and other materials. Combined with a carefully chosen color scheme you should be able to set the mood, or whatever feeling we want to create for the bathroom.
Your bathroom could be a warm and private room in your house where you can go to take a soothing shower or a luxurious bubble bath. It could encompass a vibrant, exciting decor to motivate and get us up and moving in the morning. Or it could also produce a more tranquil, harmonious approach, as in the concept of the bathroom serving as a sanctuary from the cares of the world.
Perhaps you are having difficulty in coming up with remodeling ideas to enhance the look and feel of your bathroom? A good source of bathroom design ideas can be found by doing some research and looking through some actual bathroom remodeling pictures to get some ideas about how others have designed their bathrooms. Your bathroom design ideas can ranch from a very simple and attractive room with minimal investment, or it can be a full-on elegant boutique hotel like a spa room if your bathroom remodeling resources tend to the more generous.
Custom bathroom remodeling starts with an idea and your vision for the bathroom style you love. You might start by looking at your bathroom. What can be done to make it more exciting? You need to determine just how much space is going to be needed for your new bathroom or if you will be remodeling an existing bathroom. If your bathroom space is limited, it may not be possible or practical to move or install new fixtures, and you would also have to allow for more bathroom contractors to accomplish this. It is possible that you could find a do-it-yourself bathroom remodeling is just the right option. See what potential your bathroom could have and add your own personal touch to the bathroom remodeling ideas
A good first step in the design process is to put your ideas down on paper first. Then when you have completed the design of your dream bathroom, you can start to come up with a budget. Your budget should include costs for contractors, and electricians. You may be good a do-it-yourself but you may find that some remodeling problems can create the need for some help from bathroom design professionals. But in coming up with a budget, combined with good research you can learn the basic cost of things and you can ensure that you will not be taken advantage of when the time comes for your design project to begin.
You should learn all you can about basic bathroom layouts, including plumbing and mechanical considerations and costs that may affect your bathroom design. Then, reward yourself for your diligence by dipping into the basics of decorating success: how to use the toolbox of color, line, and shape to create a place that looks as good as it feels.