Everything You Need to Know about Surviving with a Small Bathroom
by Guest on Apr 26, 2013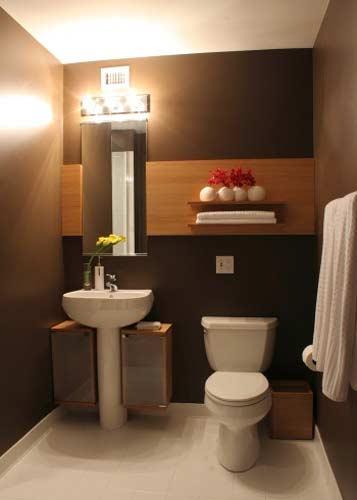 It can take a bit of ingenuity to get the most out of your small bathroom. This busy room may seem like it can't spare a touch of spice for a shelf or extra cabinet, but homeowners have discovered there are plenty of ways to get more from a small bathroom. If you're feeling overly cramped and want to give this little room a make-over, there are plenty of tips to transform this tiny space with big improvements.
Anatomy of a Small Bathroom
From half baths to full baths, the bathroom comes in various plans. Half baths are typically powder rooms with a toilet and sink, but no bathing element. A three-quarter bath, on the other hand, provides a shower stall along with the toilet and sink whereas a full bath contains the toilet, sink, and bathtub. Of course, there are bathroom suites, but we're talking about small spaces here, so save the suite idea for a large-scale renovation!
Research Means Look at Pictures
You can learn a lot of amazing tips about making the most of a small space simply by looking at images. Check out the bathroom images on websites Google or browse through library decorating books. There are many decorating books geared especially for small spaces and these often have clever and affordable ideas you can adapt to your bathroom. Websites like Pinterest also contains loads of décor images that can inspire you to revamp your bathroom.
Change Colors
A light color scheme can make a room feel larger than it is. A dark bathroom that is especially small might seem somewhat oppressive unless the dark is balanced with light. White features are easily cleaned—the tub, toilet, and pedestal sink for example. From paint to tile, you can achieve a great color scheme that can result in a more spacious look.
Mirrors
Installing large or even several mirrors in a small bathroom can create the illusion of depth. It can also make for a striking visual element. You can even put your creative stamp on this design element; for example, decorated a wall with a collection of Victorian hand mirrors or set plan mirrors in decorative frames.
Fitted Furnishings
Fitted furniture such as mounted vanities or shelving units can make the most of every inch of available space. You can also use up all the vertical space by mounting cabinetry high up the walls to store towels or various toiletries. Fitted furnishings come in a wide array of materials and styles so it's easy to achieve a look that perfectly suits your style and complements your home.
Consider a Theme
An interesting decorative theme can keep people from noticing the smallness of the space and focus more on the decorative qualities of the room. A 1950s theme with atomic barkcloth curtains and shower curtain can be great fun or consider a vintage Art Deco power room with light fixtures and design features of the era.
Just because you have a small bathroom doesn't mean it can't be glamorous or showcase your decorating prowess. With a little thought and some shopping around, you can improve your small bathroom into something quite grand.