Real Estate Investment for the Next Generation
by Nick Marr on Oct 18, 2022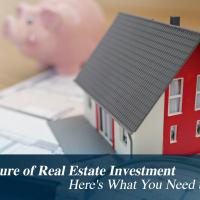 Investing in real estate is something that people have been doing for a long time. Most people invest in a home, so they can stay at home. This is usually their prime real estate investment goal. But trends are changing and also the needs of the next generation are changing.
We look at real estate investment from the point of view of the next generation. The facts presented here will help you get started with your real estate investment.
Investing in real estate
The generation before looked at real estate as a home, a place to live in. Most people were only concerned about having a home to stay in for the remainder of their lives. Today's generation though is different. They are more interested in a house rather than a home. They may not necessarily stay in the same house for a long time.
The next generation is mobile. They look for new career opportunities and are willing to move to different locations if needed. They are more interested in looking for a house that is good to stay in and is an asset. Real estate is not merely a home, it is an asset whose value would appreciate over time.
When you buy a house, you can stay in it and make it your home. You can also rent it and earn money from it. Real estate value keeps increasing in line with market demand. If you buy a house in a good area, then the chances of it appreciating in value are high. After a few years, you can sell the house for a good profit. The money realized can be invested elsewhere.
Today's generation looks at some key areas while investing in real estate:
They want an asset for the future.
The need is for liquidity where they can sell the asset for cash when needed.
They also want flexibility in the buying and selling process.
Different options would be looked at before making a decision.
A key factor that has played a role in changing trends is WFH or Work From Home. While WFH was being practiced for some time, it became widespread due to the pandemic. WFH has allowed people to work from wherever they want. People no longer need a primary residence. This has prompted many people to consider staying away from the heart of the city.
As long as they have internet connectivity, they can work. This is a factor that is influencing real estate investment. People are buying homes that are assets, which would appreciate in value. They are not using conventional criteria to buy houses. This is a challenge for the real estate industry, which also is an opportunity that they can capitalize on. 
When you are looking for real estate investment options, you can consider investing in a condo development in Grand Dunman that has all the amenities you need. Such an investment will be a great idea.