7 Decor Tips to Make Your Home Look Luxurious
by Guest Post on Feb 15, 2017
Your home is your sanctuary. And it should look as luxurious as you want to feel. There are tons of ways you can make your home luxurious without breaking the bank, too!
Below are some of the top décor tips that are going to make your home go from plain and boring to luxurious and beautiful in no time flat. Whether you've bought some beautiful waterfront villas on the French Riviera or are just working on your townhome in Manhattan, these are going to make your home look as good as you want to feel.
1. Crown Molding is the Way to Go.
One of the things that can really make your home stand out from the others and give you a bit more detail in your rooms is crown molding. This little detail may not seem like much on its own, but when you add it to your rooms, it's going to be stunning.
Be sure to get crown molding that matches the overall style of your home, however, if you have a more elegant home, then you should match that with elegant crown molding.
2. Make Sure to Pick the Best Paint.
When you're looking at luxury, paint colors are one of the most important parts of making your home feel more luxurious. You can either go with dark, more mysterious hues or go for bright colors that give your home a bit of a pop. Whichever you choose, make sure not to go overboard. A great choice is to use neutral colors as your base and then add pops of color around the home. This will give your home a more soothing feel, but have a bit of uniqueness through the pops of color.
3. Pillows, Pillows, Pillows.
Don't go too overboard with this one, but pillows are a great addition to your home if you want to add some luxury. Pillows just give off the aura of calmness and automatically relaxes anyone who walks into the room. And don't worry too much about matching, either! If you have a neutral-colored couch, for example, feel free to add some new patterns in with your pillows.
4. Windows Treatments are a Must.
If your windows don't have window treatments, your home just looks a bit cheaper. However, window treatments are going to work well into your budget because they're relatively inexpensive. Make sure to get these treatments on all of your windows for a big boost in the luxury department.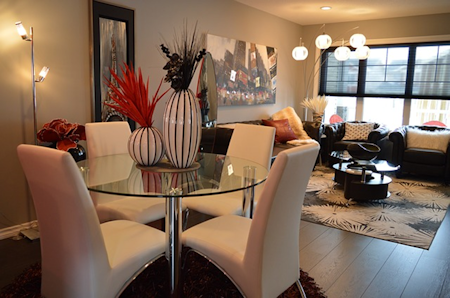 5. Go for the Unique Hardware Finishes.
Sure, you can go for the standard doorknobs and cabinet finishes, but wouldn't you rather give your home a bit more of a unique feel? Luxury doesn't equal using those bulk-made finishes that come with IKEA furniture. Give your home a bit of a twist by adding your unique hardware finishes.
6. Lighting Makes All the Difference.
Your lighting fixtures will ultimately determine how luxurious your home feels. Adding unique lighting fixtures, rather than the standard ones, will tell those who come into your home that this is your house and you know it. Try to go for more elegant pieces if your house is more elegant, but stick with minimal if you're going for a more urban or modern aesthetic. 
7. Hardwood is Greater Than Carpet.
When it comes to luxury, you simply can't go with carpet. Not only is it tough to clean, but it just doesn't look as good as a nice, dark hardwood floor. Plus, there are plenty of options out there now that make hardwood just as affordable as a carpeted floor.
Making your home a luxurious masterpiece shouldn't be difficult. And it's not if you follow the tips above and do your proper research before you get started on renovations!